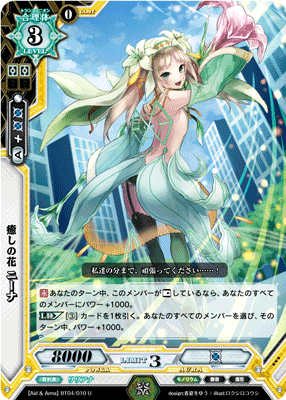 Trait 1: 静思 (Contemplate) Trait 2: 潔花 (Pure Flower)
Trait 3: - (None)
World: Monolium
[C]: あなたのターン中、このメンバーがRestしているなら、あなたのすべてのメンバーにパワー+1000。

[LD]:[③] カードを1枚引く。あなたのすべてのメンバーを選び、そのターン中、パワー+1000。
[C] During your turn, if this member is Rested, all your member gain +1000 power.
[LD] [(3)] Draw a card. Choose all your members, and they gain +1000 power for the turn.