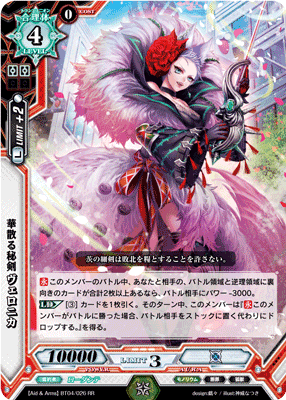 Trait 1: 断罪 (Conviction) Trait 2: 狐獣 (Fox Beast)
Trait 3: - (None)
World: Monolium
[C]: このメンバーのバトル中、あなたと相手の、バトル領域と逆理領域に裏向きのカードが合計2枚以上あるなら、バトル相手にパワー-3000。

[LD]:[③] カードを1枚引く。そのターン中、このメンバーは『[C]: このメンバーがバトルに勝った場合、バトル相手をストックに置く代わりにドロップする。』を得る。
[C] During this member's battle, if there are 2 or more total face-down cards amongst your and your opponent's Battle Zones and Paradox Zones, the battle opponent gets -3000 power.
[LD] [(3)] Draw a card. For the turn, this member gains "[C] When this member wins a battle, Drop the battle opponent instead of putting it in the Stock Zone".