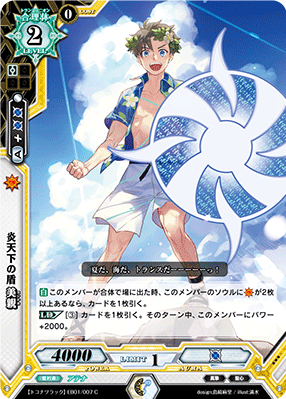 Trait 1: 真摯 (Devotion) Trait 2: 聖心 (Sacred Heart)
Trait 3:

(Summer)
World: Tetra-Heaven/Septpia
[A]: このメンバーが合体で場に出た時、このメンバーのソウルに::Summer:: が2枚以上あるなら、カードを1枚引く。

[LD]:[③] カードを1枚引く。そのターン中、このメンバーにパワー+2000。
[A] When this member enters the Field via Trance, if there are 2 or more ::Summer:: in this member's soul, draw a card.
[LD] [(3)] Draw a card. This member gains +2000 power for the turn.