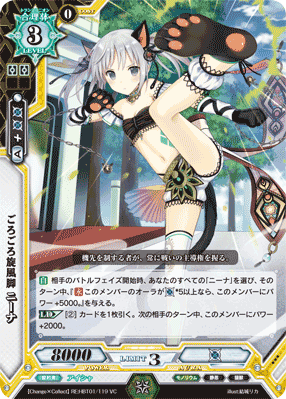 Trait 1: - (None) Trait 2: 静思 (Contemplate)
Trait 3: 猫獣 (Cat Beast)
World: Monolium
[A]: 相手のバトルフェイズ開始時、あなたのすべての「ニーナ」を選び、そのターン中、『[C]: このメンバーのオーラが[Aura]*5以上なら、このメンバーにパワー+5000。』を与える。

[LD]:[②] カードを1枚引く。次の相手のターン中、このメンバーにパワー+2000。
[A] At the start of your opponent's Battle Phase, choose all your "Nina", and for the turn, give them "[C] If this member has 5 or more aura, this member gains +5000 power."
[LD] [(2)] Draw a card. This member gains +2000 power during your opponent's next turn.