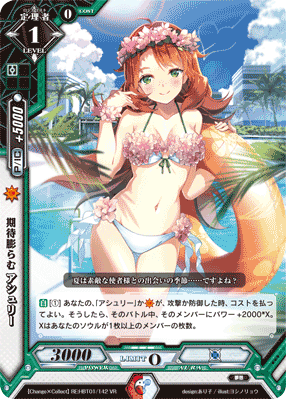 Trait 1: TokoSummer (Summer) Trait 2: 夢想 (Dream)
Trait 3: (なし) (None)
World: Disfia/Septpia
[A]:[①] あなたの、「アシュリー」か::Summer::が、攻撃か防御した時、コストを払ってよい。そうしたら、そのバトル中、そのメンバーにパワー+2000*X。Xはあなたのソウルが1枚以上のメンバーの枚数。
[A] [(1)] When your "Ashley" or ::Summer:: attacks or defends, you may pay cost. If so, that member gains +2000*X power for the battle. X is the number of your members with 1 or more Soul.