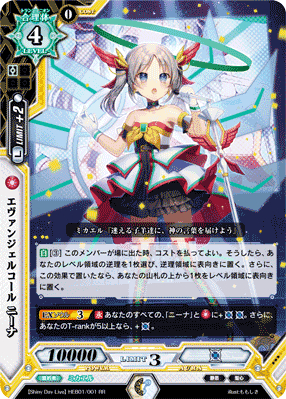 Trait 1: サン (Sun) Trait 2: 静思 (Contemplate)
Trait 3: 聖心 (Sacred Heart)
World: Tetra-Heaven/Septpia
[A]:[③] このメンバーが場に出た時、コストを払ってよい。そうしたら、あなたのレベル領域の逆理を1枚選び、逆理領域に表向きに置く。さらに、この効果で置いたなら、あなたの山札の上から1枚をレベル領域に表向きに置く。

[EX Soul 3]: [C]: あなたのすべての、「ニーナ」と
に+[Aura][Aura]。さらに、あなたのT-rankが5以上なら、+[Aura]。
[A] [(3)] When this member enters the Field, you may pay cost. If so, choose a Paradox in your Level Zone and put it face-up to the Paradox Zone. Then, if a card is put to the Paradox Zone this way, put the top card of your Deck face-up to the Level Zone.
[EX Soul 3] [C] All your "Nina" and ::Sun:: gain +2 aura. Then, if your T-rank is 5 or higher, they additionally gain +1 aura.