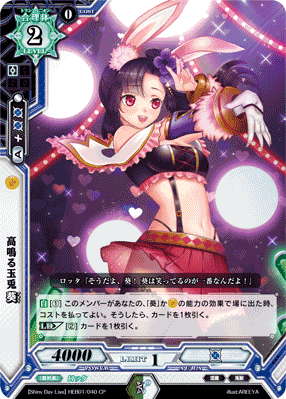 Trait 1: スター (Star) Trait 2: 流麗 (Flow)
Trait 3: 兎獣 (Rabbit Beast)
World: Monolium/Septpia
[A]:[①] このメンバーがあなたの、「葵」か
の能力の効果で場に出た時、コストを払ってよい。そうしたら、カードを1枚引く。

[LD]:[②] カードを1枚引く。
[A] [(1)] When this member enters the Field via the effect of ability of your "Aoi" or ::Star::, you may pay cost. If so, draw a card.
[LD] [(2)] Draw a card.