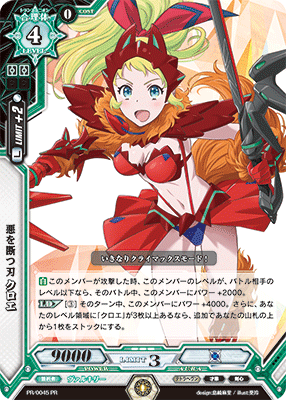 Trait 1: 才華 (Talent) Trait 2: 剣心 (Heart of Sword)
Trait 3: (-)
World: Tetra-Heaven
[A]: このメンバーが攻撃した時、このメンバーのレベルが、バトル相手のレベル以下なら、そのバトル中、このメンバーにパワー+2000。

[LD]:[③] そのターン中、このメンバーにパワー+4000。さらに、あなたのレベル領域に「クロエ」が3枚以上あるなら、追加であなたの山札の上から1枚をストックにする。
[A] When this member attacks, if the level of this member is equal to or lower than the level of the battle opponent, this member gains +2000 power for the battle.
[LD] [(3)] This member gains +4000 power for the turn. Then, if there are 3 or more "Chloe" in your Level Zone, additionally Stock the top card of your Deck.