News
Introduction
How to Play
Set Info
Cardlist
Sleeve Creator
Organized Play
Points Exchange
Where to Buy
Links
Card of the Day: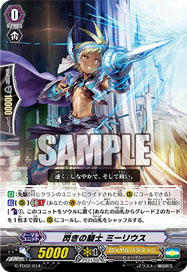 © bushiroad All Rights Reserved.
©ヴァンガードプロジェクト/テレビ愛知  
illust:伊藤彰
Contact email can be found at the
bottom of the 'Where to Buy' page.

Card Translations


[<< Prev]
[Next >>]
Screamin' and Dancin' Announcer, Shout



Name
Pronounciation
叫んで踊れる実況 シャウト
サケンデオドレルジッキョウ シャウト
Card No.:
TD03/009
Rarity:
TD
Grade:
1
Clan:
Nova Grappler
Power:
7000
Race:
Alien
Shield:
5000
Country:

Star Gate
Skill:
Boost
Type:
Normal Unit
Trigger:
None
Critical:
1
Original Card Text
【起】【(V)/(R)】:[このユニットを【レスト】する,あなたの手札から1枚選び、捨てる]1枚引く。
Original Flavor Text
おーーっと! ついにリングと言う名の大宇宙に降り立った、伝説の英雄! 歴史・時空・次元を超えた無敵のオーラは、まさしくスーパー・ウルトラ・アルティメット……

English Card Text
[S] [(V)/(R)] [Rest this Unit, discard 1 card]: Draw 1 card.
English Flavor Text
Hey! The legendary hero has arrived in the universe known as the ring! The aura that can be felt across history, dimensions, and time can only be described as Super Ultra Ultimate......
Reference Card >
Golden Mechanical Soldier Trial Deck
Looking for the whole list? Click here:
Golden Mechanical Soldier Trial Deck Translation >
(.txt file, Shift_JIS encoding. For cardsleeve inserts, click "Inserts" to the left)





HeartOfTheCards.com © 2011 Heart of the Cards.