News
Forum
Introduction
How to Play
Set Info
Cardlist
Sleeve Creator
Card Search
Decklists
Organized Play
Points Exchange
Where to Buy
Links


Translate
with the
your cards
HotC app!



Follow us
Hear about
on Twitter!
new releases!
Watch Strategy
Videos on
and Gameplay
YouTube!
Cards of
(Click for
the Day:
more info!)


© bushiroad All Rights Reserved. © CIRCUS © 2007 VisualArt's/Key © 2008 ヤマグチノボル・メディアファクトリー/ゼロの使い魔製作委員会 © N・M/Z © なのはStrikerS PROJECT © ATLUS CO.,LTD.1996,2006 ALL RIGHTS RESERVED. © NIPPON ICHI SOFTWARE INC. © TYPE-MOON All Rights Reserved. © SEGA ©2005、2009 美水かがみ/角川書店 © 2008 VisualArt's/Key © SNK PLAYMORE © CAPCOM CO., LTD. 2009 ALL RIGHTS RESERVED. © 窪岡俊之 © NBGI ©2009 Nitroplus/Project Phantom© ATLUS CO.,LTD. 1996,2008 © サンライズ・バンダイビジュアル ©サンライズ © VisualArt's/Key/光坂高校演劇部 ©2007,2008,2009谷川流・いとうのいぢ/SOS団 ©CHUNSOFT/Project CANAAN ©2004,2005 TYPE-MOON ©NANOHA The MOVIE 1st PROJECT ©TYPE-MOON / Fate-UBW Project ©鎌池和馬/アスキー・メディアワークス/PROJECT-INDEX ©鎌池和馬/冬川基/アスキー・メディアワークス/PROJECT-RAILGUN ©真島ヒロ/講談社・フェアリーテイル製作ギルド・テレビ東京 ©なのはA's PROJECT ©VisualArt's/Key/Angel Beats! Project ©2010 Visualart's/Key
Contact email can be found at the
bottom of the 'Where to Buy' page.

Now hiring Japanese-English Translators!

Jun 13 2015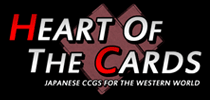 Are you fluent in Japanese and English? Are you familiar with the rules of WS? If so, and you are interested in working for us (part-time, must be residing in the US), please send us an email with the subject "HotC: Translator Position" to heartofthecardshiring@gmail.com. Include resume and applicable portfolio. We will email some candidates by the end of June to set up a phone interview. Due to a possible large number of responses, please do not expect a personalized response.
Love Live School Idol Festival Vol. 2 Booster and Trial Launch!

Jun 13 2015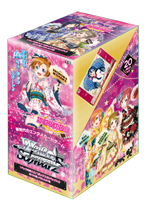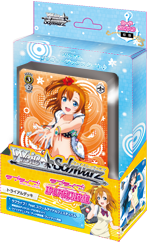 These two great products come out Saturday - we're getting the announcement up now while we deal with some last-minute translation work. Pick up these newest editions to the ever-expanding Love Live universe while supplies last!
Madoka Rebellion Booster Launch!

May 15 2015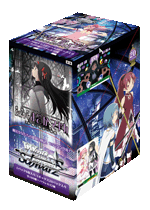 An amazing addition to WS releases today! Excellent cards across the board, synergy with original Madoka cards as well as excellent, powerful new tech, beautiful card art, and even reprint promo cards sought by every Madoka player! Get some from official retailers while supplies last!
Fate/stay night Unlimited Blade Works Booster releases!

Apr 23 2015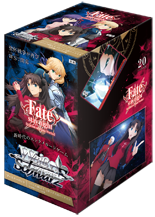 Fate UBW is on shelves today! This set is a complete upheaval to the current meta - excellent tech-y Events, new vanilla cards, an immortal 1/2, and Resonate, a new ability that lets you sacrifice hand size for added functionality, all in this 100-cardset, perfect for old and new Fate fans alike! Pick some up today, while supplies last!
Fate/stay night Unlimited Blade Works Trial Deck releases!

Apr 3 2015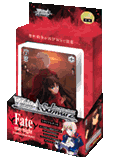 Another addition to the long-running Fate series arrives! With interesting search techniques and anti-anti-Encore, this deck heralds a big shakeup to the current Fate series! Pick one (or two) up today!
Milky Holmes Second Stage Edition Booster launch!

Mar 20 2015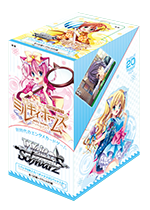 Another amazing set releases today! Tons of brand-new, focused tech for the new Holmes player, and cards that veterans have been wanting for a long time, together in one set! From 0-cost 3k backups, to excellent end-game characters, to powerful Climax combos, this set has it all - get it today!
Madoka Rebellion BP now available for preorder!

Mar 19 2015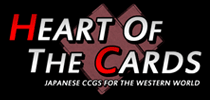 We've opened up preorders to all our retailers for this set, releasing May 15th. Check with them by the 24th to reserve your boxes today!
Card searching now available!

Mar 17 2015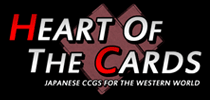 To help with finding just the right card to add to your deck, we've put in Neo-Standard card searching! Check out the "Card Search" link to the left!
WS Translation App now on Android!

Mar 3 2015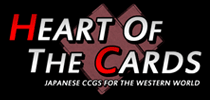 Take a picture of your card and get an instant translation from our server! Special thanks to the WS community for their hard work on this free app, and to our retailers for supporting it financially! Try it out today from the link on the left!
(iPhone/iPad version coming soon!)

As an important side note, please understand that this app is not tournament-legal for use at any of our WGP-related events, like Regionals and Nationals. Physical in-card translation slips or full Reference Cards are still required for those events. Feel free to use this in your fun matches, or your locals if your Organizer allows it, though, it's super-cool! -Head Judge
Milky Holmes Second Stage Trial Deck and Terra Formars Booster Launch!

Feb 27 2015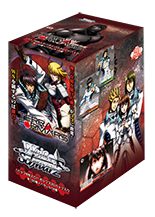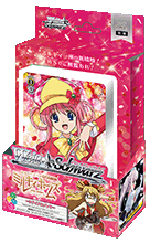 Two launches today! First, the newest addition to Milky Holmes features Experience cards and the new Feathers characters with their tag-team mechanices! Second, the full johj Terra Formars Booster, with excellent johj bug swarms, super-cool high-power johj Level 1s, and great late-game johj lockdown! Pick some up from your johj retailers before it's too JOHJ late! (All silliness aside, you really gotta check this set out, it's amazing!)
Restriction List Update!

Feb 20 2015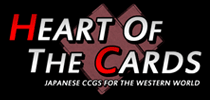 Updates to Haruhi, Index/Railgun, and Kantai Collection! Check it out!
Love Live! Vol. 2 Booster Launch!

Jan 22 2015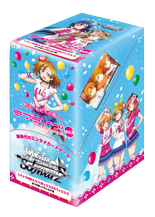 New options for every girl! Versatile Level 3s, added bonus effects for staple cards, stable search and Climax dumping, and more! An excellent addition to the Love Live! library, pick some up today!
Prisma Illya Zwei! EB now available!

Jan 16 2015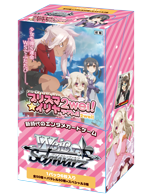 More excellent Prisma cards! Experience, clock Encore, multiple early-play Level 3s, and more, in an all-killer-no-filler Extra Booster! Get some (And the restocked original set) while supplies last!
Terra Formars TD, Girl Friend Beta TD, and Kancolle 2nd BP Launching Today!

Nov 28 2014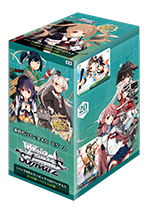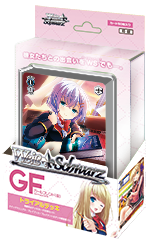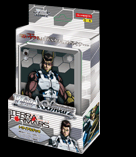 Three WS releases today! The Terra Formars and Girl Friend Beta Trial Decks, and the Kantai Collection Second Fleet Booster Pack! Pick up your girls, bugs, and even more shipgirls (in no particular order) today!
Idolm@ster Movie Booster and Sword Art Online II Extra now available!

Nov 28 2014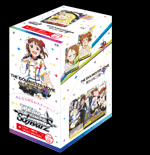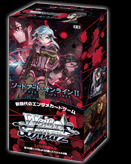 Get hype, two amazing sets today! Sword Art's amazing new offensive keyword "Target" and new support cards make it even deadlier, and the infinite awesomeness that is Idolmaster - a Level 3 that comes out at Level 1, new events (including the amazing Boys' Love Backup, thanks to National Champion Andrew for the name!), and so, so much more! Go get some today! (and trade your Ritsukos to me! -L, Head Judge)
Andrew Castillo is the 2014 North American Champion!

Nov 9 2014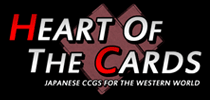 Illiana's Little Busters hits a homerun! We'll have decklists up real soon, followed by interviews and event reports! Stay tuned! Congratulations, and thanks to everyone who showed and had a great time! For interviews, decklists, and more, check the archived 2014 WGP Info Center here!
Click for older news! >>



HeartOfTheCards.com © 2011-2015 Heart of the Cards. Intellectual Property Notice