News
Forum
Introduction
How to Play
Set Info
Cardlist
Sleeve Creator
Organized Play
Points Exchange
Where to Buy
Links
Follow us
Hear about
on Twitter!
new releases!
Watch Strategy
Videos on
and Gameplay
YouTube!
Cards of
(Click for
the Day:
more info!)



© bushiroad All Rights Reserved. © CIRCUS © 2007 VisualArt's/Key © 2008 ヤマグチノボル・メディアファクトリー/ゼロの使い魔製作委員会 © N・M/Z © なのはStrikerS PROJECT © ATLUS CO.,LTD.1996,2006 ALL RIGHTS RESERVED. © NIPPON ICHI SOFTWARE INC. © TYPE-MOON All Rights Reserved. © SEGA ©2005、2009 美水かがみ/角川書店 © 2008 VisualArt's/Key © SNK PLAYMORE © CAPCOM CO., LTD. 2009 ALL RIGHTS RESERVED. © 窪岡俊之 © NBGI ©2009 Nitroplus/Project Phantom© ATLUS CO.,LTD. 1996,2008 © サンライズ・バンダイビジュアル ©サンライズ © VisualArt's/Key/光坂高校演劇部 ©2007,2008,2009谷川流・いとうのいぢ/SOS団 ©CHUNSOFT/Project CANAAN ©2004,2005 TYPE-MOON ©NANOHA The MOVIE 1st PROJECT ©TYPE-MOON / Fate-UBW Project ©鎌池和馬/アスキー・メディアワークス/PROJECT-INDEX ©鎌池和馬/冬川基/アスキー・メディアワークス/PROJECT-RAILGUN ©真島ヒロ/講談社・フェアリーテイル製作ギルド・テレビ東京 ©なのはA's PROJECT ©VisualArt's/Key/Angel Beats! Project ©2010 Visualart's/Key
Contact email can be found at the
bottom of the 'Where to Buy' page.

Nisekoi TD now availble!


Apr 8 2014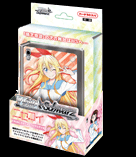 After a bit of crazy weather, Nisekoi has finally hit North American shores! With handfixing, search, and an excellent double bounce, 2014's first WeiB-side Trial Deck gtes things off with a bang! Pick one up today!
Kantai Collection Booster Pack Launches (and new forum)!


Mar 28 2014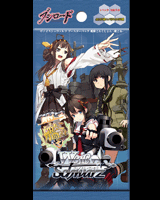 The largest WS set ever released releases today! At over 160 cards, it has more tech than you can shake a stick at! Ant-heal, Anti-Salvage, Counter Damage Cancel, Bounce, 3/3s, Level 0 swap, and so so much more! Get some while it lasts - and talk about the cards in our brand-new Strategy Forum! Moderated by multiple National Winners (and this year's World Champion!) it will hopefully become your go-to place to talk about WS! Enjoy!
Kantai Collection Trial Deck Launches!


Feb 21 2014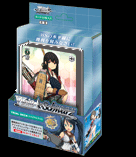 Not to sound too hype, but quite possibly the best WS Trial ever launches today! Backup with free Change, tons of tech, and Level 1s that rival the best cards in all of WeiB! On top of that, it comes with two off-color promos, and the art is great! Pick one up while they last!

Log Horizon and Kill La Kill Trial Decks have arrived!


Feb 21 2014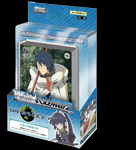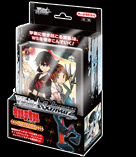 Two awesome Trial Decks are now available! Log Horizon has an excellent early game and an anti-Backup late game, while Kill La Kill is an amazing salvage and search machine! Pick one up today!

Love Live School Idol Festival launches!


Jan 25 2014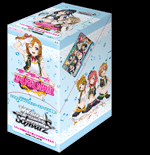 Love Live gets a new 80-card Booster to flesh out the universe! With this expansion, every girl has a Level 3, there's tons more Change and Salvage tech, easy Startup Stock usage to help with deck compression, and more! Up your game to the next level with these excellent cards today!

Wooser Special Set available this weekend!


Jan 24 2014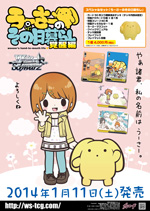 We'll have a few of the super-rare Wooser sets going out to participating stores this weekend, so check it out! With excellent Stock generation and a huge Level 3 round out this extremely strong Yellow-based set, each special pack comes with five insane pre-banned cards that, if you can talk your opponent into a friendly game where they are allowed, can have you doing everything from going on a vacation to buying your way to victory!

US player Rafael Vigo wins the WGP!

Jan 12 2014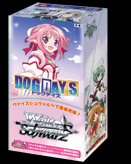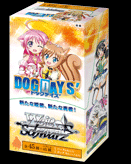 Congratulations to Raf for North America for winning the WS WGP 2013! From an undefeated run in the Swiss to an amazing 2-5 vs. 3-6 comeback, Raf never dropped a game on his way to the very pinnacle of the WeiB Schwarz World!

Pictures, play-by-plays, interviews, deck discussions, and a new WS strategy forum to come soon - for now, let us and Raf enjoy a week in Japan!
Fate/kaleid liner Extra Booster Launch!


Dec 28 2013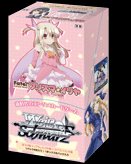 The brand-new Gate trigger (salvage a Climax) works in concert with an amazing double-Change Level 3 Climax-discard Climax Combo for one of the most dangerous combos in WS history! Pick up this easy-to-build, great looking stand-alone EB today!
Click for older news! >>



HeartOfTheCards.com © 2011-2014 Heart of the Cards.