News
Forum
Introduction
How to Play
Set Info
Cardlist
Sleeve Creator
Organized Play
Points Exchange
Where to Buy
Links
Follow us
Hear about
on Twitter!
new releases!
Watch Strategy
Videos on
and Gameplay
YouTube!
Cards of
(Click for
the Day:
more info!)



© bushiroad All Rights Reserved. © CIRCUS © 2007 VisualArt's/Key © 2008 ヤマグチノボル・メディアファクトリー/ゼロの使い魔製作委員会 © N・M/Z © なのはStrikerS PROJECT © ATLUS CO.,LTD.1996,2006 ALL RIGHTS RESERVED. © NIPPON ICHI SOFTWARE INC. © TYPE-MOON All Rights Reserved. © SEGA ©2005、2009 美水かがみ/角川書店 © 2008 VisualArt's/Key © SNK PLAYMORE © CAPCOM CO., LTD. 2009 ALL RIGHTS RESERVED. © 窪岡俊之 © NBGI ©2009 Nitroplus/Project Phantom© ATLUS CO.,LTD. 1996,2008 © サンライズ・バンダイビジュアル ©サンライズ © VisualArt's/Key/光坂高校演劇部 ©2007,2008,2009谷川流・いとうのいぢ/SOS団 ©CHUNSOFT/Project CANAAN ©2004,2005 TYPE-MOON ©NANOHA The MOVIE 1st PROJECT ©TYPE-MOON / Fate-UBW Project ©鎌池和馬/アスキー・メディアワークス/PROJECT-INDEX ©鎌池和馬/冬川基/アスキー・メディアワークス/PROJECT-RAILGUN ©真島ヒロ/講談社・フェアリーテイル製作ギルド・テレビ東京 ©なのはA's PROJECT ©VisualArt's/Key/Angel Beats! Project ©2010 Visualart's/Key
Contact email can be found at the
bottom of the 'Where to Buy' page.

Kill La Kill English Trial Decks Available!


Aug 22 2014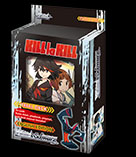 You can now pick up this great deck in English! Get started playing WS with your friends, your fellow anime fans, your pets, anyone you can! On sale starting today!
Nisekoi Booster Pack Launch (one day early)!


Aug 21 2014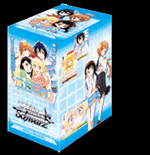 The year's most-awaited Booster launches a day early in North America! With the same-named Event in all four colors (each with its own ability!) and multiple Characters that put it to good use, this versatile, powerful set lives up to its promise! Pick it up while it lasts!
Announcing the 2014 North American WS WGP!

Jul 24 2014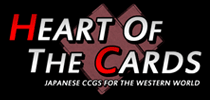 (AUG 20 UPDATE: Nationals Format Change!)
(AUG 6 UPDATE: New Banlist!)
It's that time of year again! Preregister and play in over two dozen Regional Tournaments across the country to win an invite to Nationals, and get a chance to represent all of North America in the World Championship in Japan! Winner receives round-trip airfare and hotel to participate in the WeiB Schwarz World Championship! North America won Worlds last year - can you help us do it again?

For information on how to enter / where to play, click here! >>


Project Diva 2 Booster Launches Thursday, Angel Beats! Re: Edit English Trial and Booster Friday!


Jul 23 2014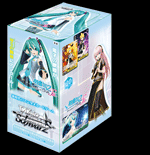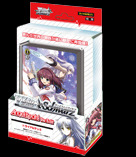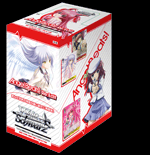 Diva 2 hits the shelves in North America one day early! Tons of new cards and abilities, with excellent Events and late game Characters to make Project Diva truly shine! Also, Angel Beats TD and BP are available in English on Friday! Check it all out at your local retailer!
Angel Beats! Re: Edit Trial and Booster, and Love Live! Extra!


Jun 27 2014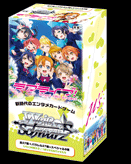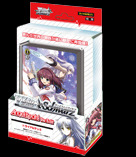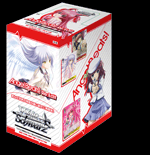 Triple Release Day! First, the Angel Beats! Re: Edit Trial Deck and Booster - built from both the very best of the multiple previous AB sets and powerful brand-new cards! It's a one-stop shop for all your Angel Beats! needs! Thirdly, Love Live! has an Extra Booster, with even more options for you Mu's fans! SO MANY EXCLAMATION POINTS! Check both out at your local store today!
Log Horizon Extra Booster is in!


Jun 13 2014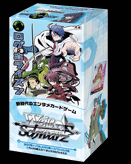 The game-changing Log Horizon Extra Booster is here! Level 0 chasers, Huge Level 3 Supports, a brand new Bodyguard, and so, so much more! Pick up some today - this set is the fastest-selling so far this year!
WGP Regional Applicants - please respond!

Jun 12 2014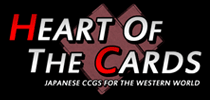 We've emailed every single applicant with what you need to do next - we need you to get back to us before Monday. If you haven't gotten an email, check your Spam folder, or email us to check. Thanks!
Want a WGP Regional in your area? Here's how!

May 28 2014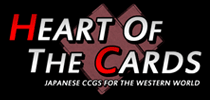 UPDATED 6/11: Applications closed! Looks like EVERY Applicant that made it in before the 11th is conditionally approved (assuming they follow instructions!) Stay tuned mid-next-week for locations!

Apply today!
UPDATED 6/4: Still looking for more locations!
   Apply today!
UPDATED 5/30: US/CN Visa (or citizenship) req.
UPDATED 5/29: Canadian Sites, JP/EN Card clarification (JP Only)
We're in the process of setting up the Regionals for this year's North American (US/Canada) WGP, and we need to determine where to hold our Regionals! If you are interested in having one in your area, please read and follow these instructions carefully!

Send us an email at

:
The Subject should be "NA WGP Regional Request - TOWNNAME, ST", where TOWNNAME should be replaced by the name of the town you live in, and ST should be the 2-letter abbreviation your state uses.

The Body of the email should follow this format:

- Your Name
- Your Email
- Your Phone Number
- Your City and State
- The Name of the Location of the Regional
- Contact information / webiste of the Regional Location
- The maximum amount of player seating available (DO NOT ESTIMATE)
- If you've held a WS regional before
- 100 words or less on why your spot should be picked. Include approximate counts on local playerbase size, events held, and so on.

People requesting the Regional will still be able to play in it - if your location is selected, we will either send someone to judge it or assist you remotely.

The site you choose for the Regional cannot charge money in any way - the Regional must occur in a free location (no conventions with badge fees, no stores that would require an entry fee). We suggest working with a local game store, or a library. You must have permission to run it in this location. The location must have stable internet access, and you must have the ability to understand and follow instructions, and access to a phone for the duration of the tournament.

If selected, we will work with you to set up a Regional in your area in September / October, with Nationals occurring in Rochester, NY, some time in October / November.

Note that we do not have answers for many questions regarding tournament structure / format / number of spots / etc yet - while we work on details, we need to get a list of interested places first, and we won't know about an interested place without your input!

Be sure to let your friends know about this as well - if you talk about WS in English, post a link to this announcement, so we can get the word out as fast as possible. All applications must be in by June 10th.

Some notes on things we are in the process of working on:
- Regionals in Canada are allowed, and any player living in America or Canada (Citizenship not required - visa holders and citizens are both allowed) is allowed to win the National Tournament - winners must be able to fly from the US to Japan and back, possibly without accompaniment (esp. in case of Canadian winners). Once in Tokyo, we should be able to provide assistance, if we cannot fly one the same plane with you to Japan
- No Regionals outside USA / Canada
- English cards are not allowed, only Japanese cards are allowed

Again, please note - you must be able to follow instructions, fairly hand out promotional items, send back extras, do paperwork, and keep a cool head if you want to be an Assistant Organizer for a Regional. You'll still be able to play in it - we expect the more prominent players in each area to apply for their area - but if you can't handle deferring to a higher authority during a tournament, or explaining both sides of a question, bad things can happen. Please make sure you are mature and fair enough to be responsible for running an event before you apply.

Even if you know your friend applied for your area, you can apply too! it'll be good for us to know we have multiple people to help out.

So, let people know about this, and if you are interested, get working on your application!

Click for older news! >>



HeartOfTheCards.com © 2011-2014 Heart of the Cards. Intellectual Property Notice