News
Forum
Introduction
How to Play
Set Info
Cardlist
Sleeve Creator
Card Search
Decklists
Organized Play
Points Exchange
Where to Buy
Links


Translate
with the
your cards
HotC app!



Follow us
Hear about
on Twitter!
new releases!
Watch Strategy
Videos on
and Gameplay
YouTube!
Cards of
(Click for
the Day:
more info!)


© bushiroad All Rights Reserved. © CIRCUS © 2007 VisualArt's/Key © 2008 ヤマグチノボル・メディアファクトリー/ゼロの使い魔製作委員会 © N・M/Z © なのはStrikerS PROJECT © ATLUS CO.,LTD.1996,2006 ALL RIGHTS RESERVED. © NIPPON ICHI SOFTWARE INC. © TYPE-MOON All Rights Reserved. © SEGA ©2005、2009 美水かがみ/角川書店 © 2008 VisualArt's/Key © SNK PLAYMORE © CAPCOM CO., LTD. 2009 ALL RIGHTS RESERVED. © 窪岡俊之 © NBGI ©2009 Nitroplus/Project Phantom© ATLUS CO.,LTD. 1996,2008 © サンライズ・バンダイビジュアル ©サンライズ © VisualArt's/Key/光坂高校演劇部 ©2007,2008,2009谷川流・いとうのいぢ/SOS団 ©CHUNSOFT/Project CANAAN ©2004,2005 TYPE-MOON ©NANOHA The MOVIE 1st PROJECT ©TYPE-MOON / Fate-UBW Project ©鎌池和馬/アスキー・メディアワークス/PROJECT-INDEX ©鎌池和馬/冬川基/アスキー・メディアワークス/PROJECT-RAILGUN ©真島ヒロ/講談社・フェアリーテイル製作ギルド・テレビ東京 ©なのはA's PROJECT ©VisualArt's/Key/Angel Beats! Project ©2010 Visualart's/Key © pending rights holders
©なのはA's Movie 2 PROJECT ©VisualArt's/Key/Angel Beats! First Beat Project ©2015 Visualart's/Key

Contact email can be found at the
bottom of the 'Where to Buy' page.





Puyo Puyo Trial Deck and Booster!

Feb 4 2016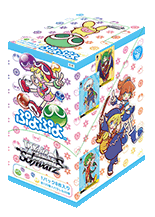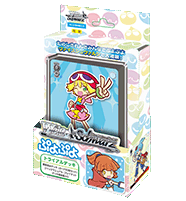 After a long wait, Puyo Puyo is finally here! Cute cards, great art - and Puyo also packs a punch! Multi-shot, triple attack, and unique Brainstorms make this the standalone set to get! Trials and Boosters, available today!
Monogatari Series Second Season Booster Launch!

Jan 22 2016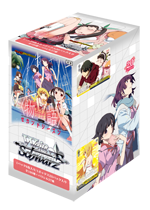 Monogatari steps up its game with this excellent set! Search loops, reshufflers, anti-anti-untargetables, counter-climax library refuelers, and more! Everything you never knew you needed for Monogatari, available today!
Love Live! The School Idol Movie Extra Booster!

Jan 7 2016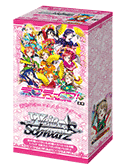 More options have arrived for every Love Live! deck! New cards for every character, useful tech, great late-game, as well as excellent alternate art (and llamas!) Pick up this Extra Booster today!
WGP WS/CF!!V Finals streaming on NicoNico!

Jan 7 2016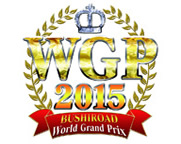 Watch the finals live on Niconico!
Jan 9th, 3 PM for Vanguard, 4 PM for WS.
(All times Tokyo time)
Click here!

http://live.nicovideo.jp/gate/lv247837845
Kantai Abyssal Extra Booster Rises from the Depths!

Dec 4 2015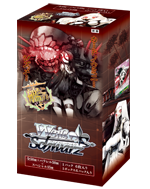 The Abyssals take back the seas with this great Extra Booster! Great midgame range, solid enders, and a number of cards that sink (bottom-deck) your opponent's characters so you can catch them speeding! Self-contained and easy to build, including tons of hot-stamp cards and even super-rare max-rarity packs, take these vessels out for a spin today!
Luck & Logic Site Open! How to Play, Videos, more!

Dec 14 2015



Luck & Logic, Bushiroad's newest game, has found a Western home at Heart of the Cards! With translations, videos, and more, HotC's new L&L site is your one-stop mecca for their brand-new game, coming out Jan. 28th!

Check out the new Luck & Logic Site! >>



Fate stay/night Unlimited Blade Works Vol. 2 Booster!

Dec 4 2015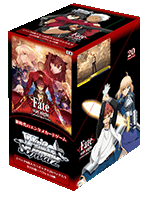 The hottest set yet hits the streets today, with the next installment of UBW! Seriously, the art on these cards is off the charts, not to mention the excellent new techs, defensive bursts, and unique anti-Change effects this Booster has to offer. Did we mention how good looking the cards were as well? :) Pick some up today! (Special thanks to our lead translator, who worked overtime to get this one done on time. Kick butt on your exam this weekend!)
Genarch Olit, 2015 NA WS WGP Champion!

Nov 22 2015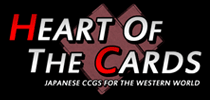 Congratulations to Genarch Olit of BC Canada, this year's champion! His Red/Yellow To Love-Ru (without the antidamage, whaaaat) takes home the gold!

We'll have interviews, decklists, statistics, and more in the next few days, we've got a lot of cleaning up, formatting, and number crunching to do here first - stay tuned!

That's the end of the 2015 National Season! You can find all of this year's info, including links to the LCQ, the Top 16, and title breakdowns in the 2015 NA WGP Info Center! A special thanks to everyone who made this possible! Now, I'm off to get some much-needed rest, and get in a game or eleven of WS! -HotC Head Judge

LCQ Complete! Nationals tomorrow!

Nov 21 2015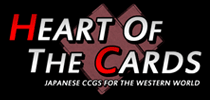 Cinderella Girls, TLR, Cinderella Girls again, and Guilty Crown take the top four! More details on the decks and players tomorrow, Nationals awaits! Stay tuned!

Symphogear GX Booster Launch!

Nov 20 2015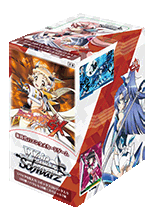 Another excellent addition to the Symphogear Universe! Tons of new Events, great midgame additions, neat-o Alchemy options, and Beef Stroganoff! Pick some up today!
One Week 'til Nationals! LCQ Update!

Nov 13 2015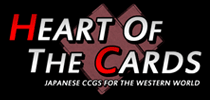 Get hype, everyone, Nationals is one week away! Those of that already have your invitation, please make sure your decklist is correct, your sleeves aren't marked, and your translations are proper (info for all can be found here) , so you can avoid any upsetting roadblocks in your climb to the top!

Last-Chance Update: Due to RSVPs and a number of last-minute updates, HotC is confirming that at least the Top 12 at the LCQ the day before Nationals will get invitations. With a number of people still "in the wind" and not replying to our contact requests (please get on that if you can), this number may increase, but as of right now, at *least* 12 spots are open, maybe more. If you think you are good enough to get in, or even if you just want to partake in an awesome event (and get free swag!), make plans (and pre-register!) today!

Dog Days Double Dash Extra Booster Launch!

Nov 11 2015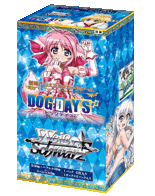 That's right, we got a special allowance to release Dog Days'' early in North America! Crazy good events, amazing Clock-related abilities, and interesting mid-game mix-ups to let the dogs out once again! Available now!
Minnesota Regional Location Change and Start Time Delay (90 min)

Nov 7 2015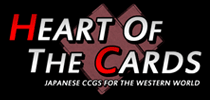 WGP: The Level Up Games regional location has been changed. the new location is:

Eagle Anime
1326 Helmo Ave. N
Oakdale, MN 55128

The start time is delayed 90 min, to 1:30PM Central time.
A special thanks to Eagle Anime for all their help!

Charlotte Booster Launch!

Oct 30 2015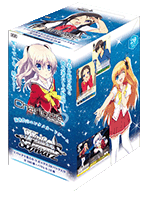 Key's latest masterpiece is now available in WS! Anti-burn, anti-attack, mill, and mega-Change effects all compete for the stage in this blockbuster of a set! Includes all-new Secret rares with original art! Pick this up starting today! (please note that some of the box-top promo cards are incorrectly listed in our translations on the Schwarz side. This will be fixed as soon as we get the go-ahead to)
Minnesota Regional Start Time Delay (30 min)

Oct 25 2015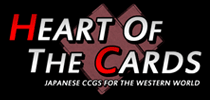 WGP: The start time for today's Outpost 2000 Regional in MN is postponed for 30 min due to unforeseen complications.

Texas Regional Start Time Delay (1 hour)

Oct 24 2015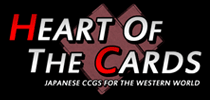 WGP: The start time for today's IDEA Regional in TX is postponed for 1 hour due to weather.

Idolmaster Cinderella Girls Booster Launch!

Oct 16 2015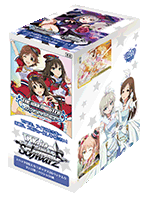 The amazing all-encompassing Cinderella Girls set launches today! Excellent, complex techy abilities just waiting to be championed by veteran players! 2 special cards and 6 RRs per box! Multiple solid choices at every level! Tons of SR/RRR/SP cards! Carton toppers for the truly dedicated! Exclamation points because I, the guy who types in the news releases, am always super hype whenever Imas stuffs releases! Woo! Pick some up today!
Indiana Regional Location Change

Oct 14 2015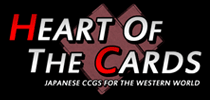 The Indianapolis, IN "Gamerz of Indianapolis" Regional is now taking place at the following location:
Greenfield, IN - Oct 17, 12:00 PM
Hometown Comics
Location: 1506 N State St., Greenfield IN, 46140


GET HYPE - Regionals are live!

Oct 10 2015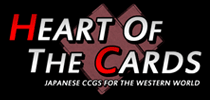 Starting with the stomping ground of last year's National Champion, the Regional season begins! Check the WGP 2015 Info Center for interviews!

Time-Limit Update for Last-Chance, Nationals, and 2016 and onward WGP Events

Oct 9 2015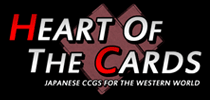 Starting with the Last-Chance and continuing through the Nationals and all future events, the time limit for a match is 30 minutes. The Regionals are still 40 minute time limits.

Idolm@ster Cinderella Girls Triple Trial Launch!

Sep 25 2015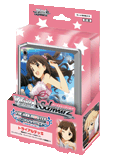 Three brand-new exclusive TDs release today! Pick your favorite girls amongst Red, Yellow, and Blue, take advantage of identically-named Climax cards, and start off on the right foot in the Cinderella Girls universe! Available today! (Cinderella Girls is not Neo-Standard with regular Idolmaster cards, and cannot be mixed with them in WGP events)


Charlotte Trial, To Love-Ru Darkness 2nd Booster!

Sep 18 2015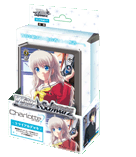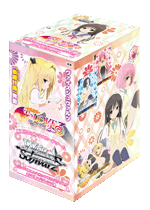 First up, the newest heartwrencher gets a Trial deck filled with love, superpowers, and pizza sauce! Second, the TLR Booster takes center stage with a rogues' gallery of powerful, highly-played effects and builds! Get both while supplies last!


Attack on Titan Booster release!

Sep 4 2015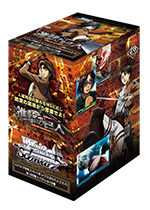 Titan launches into action in WeiB Schwarz! Counter-positioning, restanding, huge mid-game, and an alternate easy-to-compile mono-color Titan deck that packs a punch! Pick up some today!


Nisekoi, SAO II vol. 2 Extra Boosters, Idolmaster 765, and Attack on Titan Trial Deck!

Aug 21 2015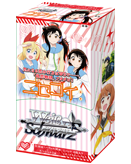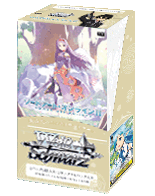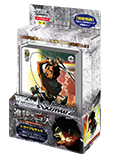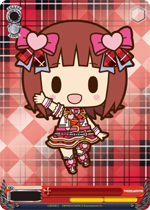 What a lovely day! Four sets release! Tons more options for Nisekoi, more stability, crazy burn, and late-game Kirito for SAO, Attack on Titan's giant Titans and Events, and reprints of awesome Idolmaster cards! Pick up some while you can! (AoT translations will be up as soon as we get the green light to post them, as they aren't on ws-tcg yet, and the Imas cards should be in any day now, customs is running a little slow -_-)

Restriction List Update

Aug 21 2015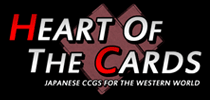 The Restriction List has been updated, and will be in effect for all Regionals.

WGP: Coolstuff Winterpark Location Change

Aug 17 2015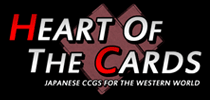 The Coolstuff Games Winterpark Florida location has changed. If this affects you, please check the WGP Info Center for details.

The North American 2015 WGP is now open!

Aug 7 2015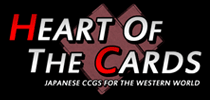 Link above to the Info Center! Read the rules! Find a Regional! Sign up! Go play! Let's make this the best season yet!

Still waiting on a few Regional Locations!

Aug 4 2015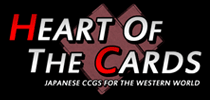 A handful of Regional Locations still haven't replied to their Ratification email! In a couple days, we'll have to pull those offers and move the spots to other stores in their area - if you are a Regional Advisor in California, Nevada, Minnesota, or New York, and you haven't gotten your Ratification email, contact us ASAP!

Shining Resonance Extra Booster Launch!

Jul 31 2015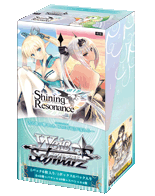 A new expansion to one of WS' earliest sets, this all-killer, no-filler Extra has amazing Resonance (including on-demand shuffle!), great stability, and amazing late-game direct damage. Pick some up while it lasts!
WGP 2015 deadline approaching!

Jul 22 2015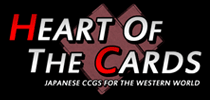 A reminder - applications need to be in by the 24th! Those who have already applied - respond back with the times you have open by the 24th, or we won't be able to get your Regional approved!

Applications open for WGP 2015!

Jul 13 2015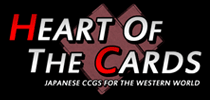 07/15 UPDATE: Nationals Date and Time!
Heart of the Cards is proud once again to announce the World Grand Prix 2015! at Regionals all across North America, WS players will strive to get an invite to the National Tournament, and the winner there will get the opportunity to go to Japan as the North American Champion!

The next step, however, needs your help to be a success! We're in the process of setting up the Regionals for this year's North American (US/Canada) WGP, and we need to determine where to hold our Regionals! If you are interested in having one in your area, please read and follow these instructions carefully!

Send us an email at

:
The Subject should be "NA WGP Regional Request - TOWNNAME, ST", where TOWNNAME should be replaced by the name of the town you live in, and ST should be the 2-letter abbreviation your state uses.

The Body of the email should follow this format:

- Your Name
- Your Email
- Your Phone Number
- Your City and State
- The Name of the Location of the Regional
- Contact information / website of the Regional Location
- The maximum amount of player seating available (DO NOT ESTIMATE)
- If you've held a WS regional before
- 100 words or less on why your spot should be picked. Include approximate counts on local playerbase size, events held, and so on.

People requesting the Regional will still be able to play in it - if your location is selected, we will either send someone to judge it or assist you remotely.

The site you choose for the Regional cannot charge money in any way - the Regional must occur in a free location (no conventions with badge fees, no stores that would require an entry fee). We suggest working with a local game store, or a library. You must have permission to run it in this location. The location must have stable internet access, and you must have the ability to understand and follow instructions, and access to a phone for the duration of the tournament.

If selected, we will work with you to set up a Regional in your area in September / October, with Nationals occurring in Rochester, NY, at Hammergirl Anime, Sunday, Nov. 22nd, 10AM.

Note that we do not have answers for many questions regarding tournament structure / format / number of spots / etc yet - while we work on details, we need to get a list of interested places first, and we won't know about an interested place without your input!

Be sure to let your friends know about this as well - if you talk about WS in English, post a link to this announcement, so we can get the word out as fast as possible. All applications must be in by July 24th.

Some notes on things we are in the process of working on:
- Regionals in Canada are allowed, and any player living in America or Canada (Citizenship not required - visa holders and citizens are both allowed) is allowed to win the National Tournament - winners must be able to fly from the US to Japan and back, possibly without accompaniment (esp. in case of Canadian winners). Once in Tokyo, we should be able to provide assistance, if we cannot fly one the same plane with you to Japan
- No Regionals outside USA / Canada
- English cards are not allowed, only Japanese cards are allowed

Again, please note - you must be able to follow instructions, fairly hand out promotional items, send back extras, do paperwork, and keep a cool head if you want to be an Assistant Organizer for a Regional. You'll still be able to play in it - we expect the more prominent players in each area to apply for their area - but if you can't handle deferring to a higher authority during a tournament, or explaining both sides of a question, bad things can happen. Please make sure you are mature and fair enough to be responsible for running an event before you apply.

Even if you know your friend applied for your area, you can apply too! it'll be good for us to know we have multiple people to help out.

So, let people know about this, and if you are interested, get working on your application today!

To Love-Ru Darkness 2nd Trial Launch Friday!

Jul 10 2015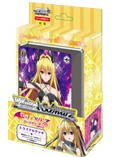 This sweet deck launches Friday, and as we're at cons across North America, we're posting this announcement now! We can't say anything about it just yet, but trust us, it's awesome, and available this Friday!
Now hiring Japanese-English Translators!

Jun 13 2015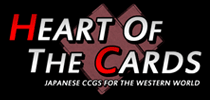 Are you fluent in Japanese and English? Are you familiar with the rules of WS? If so, and you are interested in working for us (part-time, must be residing in the US), please send us an email with the subject "HotC: Translator Position" to heartofthecardshiring@gmail.com. Include resume and applicable portfolio. We will email some candidates by the end of June to set up a phone interview. Due to a possible large number of responses, please do not expect a personalized response.
Love Live School Idol Festival Vol. 2 Booster and Trial Launch!

Jun 13 2015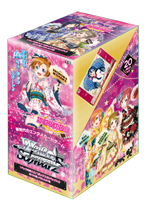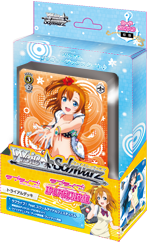 These two great products come out Saturday - we're getting the announcement up now while we deal with some last-minute translation work. Pick up these newest editions to the ever-expanding Love Live universe while supplies last!
Madoka Rebellion Booster Launch!

May 15 2015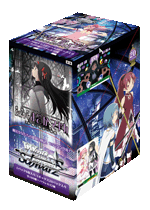 An amazing addition to WS releases today! Excellent cards across the board, synergy with original Madoka cards as well as excellent, powerful new tech, beautiful card art, and even reprint promo cards sought by every Madoka player! Get some from official retailers while supplies last!
Fate/stay night Unlimited Blade Works Booster releases!

Apr 23 2015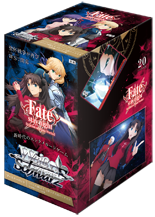 Fate UBW is on shelves today! This set is a complete upheaval to the current meta - excellent tech-y Events, new vanilla cards, an immortal 1/2, and Resonate, a new ability that lets you sacrifice hand size for added functionality, all in this 100-cardset, perfect for old and new Fate fans alike! Pick some up today, while supplies last!
Fate/stay night Unlimited Blade Works Trial Deck releases!

Apr 3 2015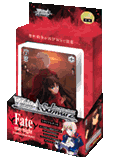 Another addition to the long-running Fate series arrives! With interesting search techniques and anti-anti-Encore, this deck heralds a big shakeup to the current Fate series! Pick one (or two) up today!
Milky Holmes Second Stage Edition Booster launch!

Mar 20 2015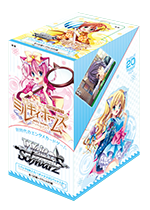 Another amazing set releases today! Tons of brand-new, focused tech for the new Holmes player, and cards that veterans have been wanting for a long time, together in one set! From 0-cost 3k backups, to excellent end-game characters, to powerful Climax combos, this set has it all - get it today!
Madoka Rebellion BP now available for preorder!

Mar 19 2015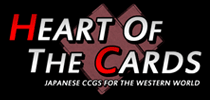 We've opened up preorders to all our retailers for this set, releasing May 15th. Check with them by the 24th to reserve your boxes today!
Card searching now available!

Mar 17 2015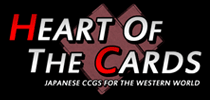 To help with finding just the right card to add to your deck, we've put in Neo-Standard card searching! Check out the "Card Search" link to the left!
WS Translation App now on Android!

Mar 3 2015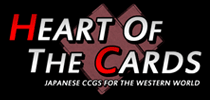 Take a picture of your card and get an instant translation from our server! Special thanks to the WS community for their hard work on this free app, and to our retailers for supporting it financially! Try it out today from the link on the left!
(iPhone/iPad version coming soon!)

As an important side note, please understand that this app is not tournament-legal for use at any of our WGP-related events, like Regionals and Nationals. Physical in-card translation slips or full Reference Cards are still required for those events. Feel free to use this in your fun matches, or your locals if your Organizer allows it, though, it's super-cool! -Head Judge
Milky Holmes Second Stage Trial Deck and Terra Formars Booster Launch!

Feb 27 2015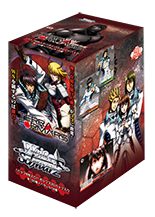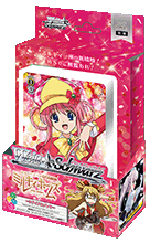 Two launches today! First, the newest addition to Milky Holmes features Experience cards and the new Feathers characters with their tag-team mechanices! Second, the full johj Terra Formars Booster, with excellent johj bug swarms, super-cool high-power johj Level 1s, and great late-game johj lockdown! Pick some up from your johj retailers before it's too JOHJ late! (All silliness aside, you really gotta check this set out, it's amazing!)
Restriction List Update!

Feb 20 2015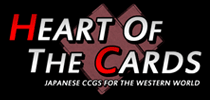 Updates to Haruhi, Index/Railgun, and Kantai Collection! Check it out!
Love Live! Vol. 2 Booster Launch!

Jan 22 2015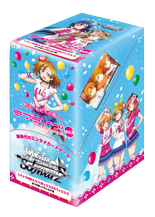 New options for every girl! Versatile Level 3s, added bonus effects for staple cards, stable search and Climax dumping, and more! An excellent addition to the Love Live! library, pick some up today!
Prisma Illya Zwei! EB now available!

Jan 16 2015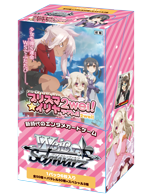 More excellent Prisma cards! Experience, clock Encore, multiple early-play Level 3s, and more, in an all-killer-no-filler Extra Booster! Get some (And the restocked original set) while supplies last!
Terra Formars TD, Girl Friend Beta TD, and Kancolle 2nd BP Launching Today!

Nov 28 2014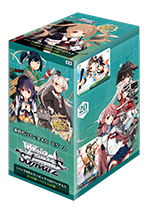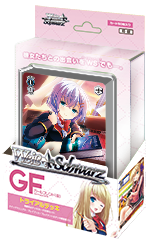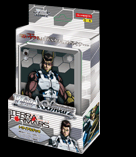 Three WS releases today! The Terra Formars and Girl Friend Beta Trial Decks, and the Kantai Collection Second Fleet Booster Pack! Pick up your girls, bugs, and even more shipgirls (in no particular order) today!
Idolm@ster Movie Booster and Sword Art Online II Extra now available!

Nov 28 2014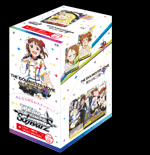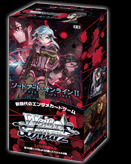 Get hype, two amazing sets today! Sword Art's amazing new offensive keyword "Target" and new support cards make it even deadlier, and the infinite awesomeness that is Idolmaster - a Level 3 that comes out at Level 1, new events (including the amazing Boys' Love Backup, thanks to National Champion Andrew for the name!), and so, so much more! Go get some today! (and trade your Ritsukos to me! -L, Head Judge)
Andrew Castillo is the 2014 North American Champion!

Nov 9 2014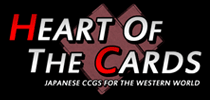 Illiana's Little Busters hits a homerun! We'll have decklists up real soon, followed by interviews and event reports! Stay tuned! Congratulations, and thanks to everyone who showed and had a great time! For interviews, decklists, and more, check the archived 2014 WGP Info Center here!
Click for older news! >>



HeartOfTheCards.com © 2011-2016 Heart of the Cards. Intellectual Property Notice