News
Introduction
How to Play
Set Info
Cardlist
Sleeve Creator
Card Search
Decklists
Organized Play
Points Exchange
Where to Buy
Links



Translate
with the
your cards
HotC app!



Follow us
Hear about
on Twitter!
new releases!
Watch Strategy
Videos on
and Gameplay
YouTube!
Cards of
(Click for
the Day:
more info!)


© bushiroad All Rights Reserved. © CIRCUS © 2007 VisualArt's/Key © 2008 ヤマグチノボル・メディアファクトリー/ゼロの使い魔製作委員会 © N・M/Z © なのはStrikerS PROJECT © ATLUS CO.,LTD.1996,2006 ALL RIGHTS RESERVED. © NIPPON ICHI SOFTWARE INC. © TYPE-MOON All Rights Reserved. © SEGA ©2005、2009 美水かがみ/角川書店 © 2008 VisualArt's/Key © SNK PLAYMORE © CAPCOM CO., LTD. 2009 ALL RIGHTS RESERVED. © 窪岡俊之 © NBGI ©2009 Nitroplus/Project Phantom© ATLUS CO.,LTD. 1996,2008 © サンライズ・バンダイビジュアル ©サンライズ © VisualArt's/Key/光坂高校演劇部 ©2007,2008,2009谷川流・いとうのいぢ/SOS団 ©CHUNSOFT/Project CANAAN ©2004,2005 TYPE-MOON ©NANOHA The MOVIE 1st PROJECT ©TYPE-MOON / Fate-UBW Project ©鎌池和馬/アスキー・メディアワークス/PROJECT-INDEX ©鎌池和馬/冬川基/アスキー・メディアワークス/PROJECT-RAILGUN ©真島ヒロ/講談社・フェアリーテイル製作ギルド・テレビ東京 ©なのはA's PROJECT ©VisualArt's/Key/Angel Beats! Project ©2010 Visualart's/Key © pending rights holders
©なのはA's Movie 2 PROJECT ©VisualArt's/Key/Angel Beats! First Beat Project ©2015 Visualart's/Key

Contact email can be found at the
bottom of the 'Where to Buy' page.

Points Exchange





DO NOT SCRATCH OFF
THE POINTS CARD STRIPE!



New points have a scratch-off bar. Points Redemption won't accept scratched-off overseas points. They must be redeemed non-electronically, with an unscratched stripe. While this may change in the future, for now, do NOT scratch them off.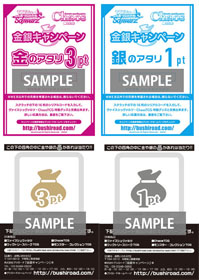 Many Booster Packs, Trial Decks, and Boxes of Weiβ Schwarz have a white Prize Coupon. While most of them are blank (or say "ハズレ!" or "残念", 'not a winner / sorry' - for an example of a non-winning coupon with text on it, click here), some have Gold or Silver or Red or Blue Icons on them, which can be traded in for prizes unavailable anywhere else!

By mailing in your Coupons you can get prizes sent to you through your local store or even shipped right to your door!

Please read the instructions below carefully to redeem your prizes. Failure to follow instructions will keep you from receiving your prizes. Points Redemption can take multiple weeks depending on when you send them in.

US and Canada only, please. Other countries (France, Australia, Singapore, etc) have their own methods of point exchange.



Once again - we do NOT process points from Singapore.
Look up Genesis Frontier if you are from Singapore.



If you are under the age of 18, please get a parent or guardian's help and permission. By mailing points to us, you agree to all Terms and Conditions in regards to our North American Points Exchange program.






1. Gather up your coupons, and count the number of Silver Points you have. 1 Gold Coupon is worth 3 Silver Coupons, and Red/Blue Coupons say how many points they are worth (1 point = 1 Silver). Note that Coupons have an expiration date - look under the picture of the prize mark to see. Coupons that expire by the end of the next month AFTER the date they arrive in our mailbox cannot be redeemed. (Example: If you have a coupon that lists a date of 6/2012, and it gets to us on or after 5/1/2012, it will be considered expired. We do not return these points, they are instead disposed of.)

2. Choose items from the list below. This list is updated every month, but is not always officially current. The current list is available on Bushiroad's Japanese site here. Should you want to use your points for CHaoS, SVSM, or Victory Spark items (all of which are other Bushiroad card games - note that Vanguard / Buddyfight are NOT included in this list), you may do so, but you must be very specific in the full correct name of the item and the title of the game it comes from, and must research these item lists on your own on their Japanese site. We do not offer any translation support for those game's points lists. Large or hard-to-pack items incur an extra charge.

3. Get a sheet of paper, and write on it: Your Name and USPS Mailing Address (Western countries only please), the Prizes you want and the Silver Coupon Cost of each, your Email, and whether you want the prizes Shipped to You or Shipped to a Participating Store. If you want your prize shipped to your local Participating Store, put "Ship to Store" and their Store Name (participating stores only, see below). Otherwise, put "Ship to My Address". Make sure it is readable, remembering that lowercase L's, number 1's, capital i's look the same, as does the letter O and the number 0, and capital S's and the number 5.

4. Put the sheet of paper along with your points coupons into an envelope and mail it to:
Heart of the Cards
Attn: Points Redemption
PO Box 18652
Rochester, NY 14618
Make sure to use a sturdy, well-sealed envelope, include your return address, and use proper postage, and get Delivery Confirmation (or use Registered Mail) to ensure that your coupons are tracked accurately and get to us okay. If you put too many points coupons inside, you will receive WS Storage Boxes for your remaining points. Too few, and we will fill your list top-down to the best of our ability. We apologize, but Heart of the Cards is not responsible for coupons that are lost or destroyed in the mail.

Alternatively, you can turn your points in to a participating store listed under "In-Store Pickup" below. They will submit your points for you, and have the items shipped to them, to give to you upon arrival. Please check with the store in regards to any store-specific instructions or fees charged for this service. In-store Pickup only available in-person.

5. Also send an email to

with the subject "Points Redemption" with all the information on the paper: include your name, email, mailing address, where you want the prizes shipped to, and the list of prizes you want and the point cost of each. This way, we have confirmation you sent something.

6. On the 1st of each month, we compile the letters and put the order in to Bushiroad in Japan. Should a prize be out of stock, we will contact you via email to have you choose a replacement. If we cannot get a hold of you or receive a valid answer, your coupons will either be A: banked (where you will have 1 month to use them, or they will be forfeit) or B: redeemed for a Storage Box of Bushiroad's choosing. Which happens is determined during the points exchanging process in Japan, and that decision is final.

7. When the prizes arrive, we will email you a notification. We then contact each person with the shipping cost. Shipping cost will be the amount of the postage + insurance required to get your points to Japan, get your items back, and get them out to you - we do not charge any more than what it costs us to ship points there and back, and ship to you. We use Priority Mail and First Class from New York, so you can estimate the weight of your prize and determine shipping that way (note that the packaging itself weighs a few ounces). As a rule of thumb, it will be approximately $7 for the domestic shipping portion + $2-$3 per item (more for large / fragile / high-point items) for the combined cost to insure, pay tariff, and ship items from Japan to US for US domestic delivery, + $1.15 per point for shipping and insuring the points shipment to Japan (should you get more items than can fit in a $7 flat rate package, and / or orders that require more than $50 of insurance for domestic shipping, will be adjusted to reflect that). Domestic orders with more than 10 points will be insured for approximately $5 per point up to the maximum allowed by USPS. Payment via PayPal. In-store pickup fees are charged instead by the store themselves - please contact the store of your choice for more information. Unpaid invoice items will be held for two months, then are considered abandoned. Contact us if you would like an estimate prior to shipping your points.

8. After receipt of PayPal, we will ship the Send to My Address prizes.

List of participating stores for In-Store Pickup:





Hammergirl Anime, Rochester NY
Black Knight Comics, Essex Junction, VT
TheShop Gaming & Entertainment, Owatonna, MN


---
Sword Art Barcode Campaign
In addition to Points, you can send in 5 UPC Blocks from the sides of the SAO Booster Pack Box. The UPC blocks must have both UPC together in one piece - you cannot cut them out indvidually. For each 5 you send in, you receive one special PR card. Please follow the same instructions as the standard Points Exchange procedure. While supplies last.
---
Prize List:
(this list only shows the Weiβ Schwarz prizes. If you want a prize from another series, you must look it up yourself on the Bushiroad site, and provide us with the URL of the prize along with the name and the full location and filename of the sample picture. Note that Gold and Silver coupons trade equally with Gold and Silver Partner Points, and all can be used on the following Bushiroad Points Exchanges: Chaos The Card Game, Sunday Vs. Magazine, Victory Spark, Weiβ Schwarz. Points cannot be used for Vanguard, or vice versa)



Prize
(If link does not work, try again - the EN page redirects once)
Silver Coupons
Pictures
(links to Bushiroad)
10-pk of 9-pocket Binder Sleeves
1
Pic
Nanoha Movie 2nd A's Sleeves C
3
Pic
Love Live! feat. School Idol Festival Sleeves B Pink
3
Pic
Love Live! feat. School Idol Festival Sleeves C Orange
3
Pic
Kantai Collection Sleeves Series 1 A Yukikaze Blue
3
Pic
Kantai Collection Sleeves Series 1 C Nagato Purple
3
Pic
Kantai Collection Series 1 Sleeves D Shigure Green
3
Pic
Hatsune Miku Diva F 2nd Sleeves
3
Pic
New Nanoha Sleeves A (Nanoha/White)
3
Pic
New Nanoha Sleeves B (Fate/Black)
3
Pic
New Nanoha Sleeves C (Hayate/Blue)
3
Pic
Kantai Collection 2nd Fleet Sleeves A Kaga Light Green
3
Pic
Kantai Collection 2nd Fleet Sleeves B Tatsuta Violet
3
Pic
Kantai Collection 2nd Fleet Sleeves C Shiratsuyu Kai Pink
3
Pic
Kantai Collection 2nd Fleet Sleeves E Ooyodo Gray
3
Pic
Love Live! Vol. 2 A Sleeves Blue
3
Pic
Love Live! Vol. 2 B Sleeves Pink
3
Pic
Love Live! Vol. 2 C Sleeves Green
3
Pic
Attack on Titan Sleeves
3
Pic
Love Live! The School Idol Movie Sleeves
3
Pic
Monogatari Second Season Sleeves
3
Pic
Osomatsu-san Sleeves
3
Pic
Rin-ne Sleeves
3
Pic
Kiznaiver Sleeves
3
Pic
Love Live Sunshine Sleeves A Chika
3
Pic
Love Live Sunshine Sleeves B Riko
3
Pic
Love Live Sunshine Sleeves C Kanan
3
Pic
Love Live Sunshine Sleeves E You
3
Pic
Love Live Sunshine Sleeves F Yoshiko
3
Pic
Love Live Sunshine Sleeves G Hanamaru
3
Pic
Love Live Sunshine Sleeves I Ruby
3
Pic
Konosuba Sleeves
3
Pic
Love Live Sunshine Mirai Ticket Sleeves A Chika
3
Pic
Love Live Sunshine Mirai Ticket Sleeves B Riko
3
Pic
Love Live Sunshine Mirai Ticket Sleeves E You
3
Pic
Love Live Sunshine Mirai Ticket Sleeves F Yoshiko
3
Pic
Love Live Sunshine Mirai Ticket Sleeves G Hanamaru
3
Pic
Love Live Sunshine Mirai Ticket Sleeves I Ruby
3
Pic
Love Live Sunshine Mirai Ticket Sleeves C Kanan
3
Pic
Love Live Sunshine Mirai Ticket Sleeves D Dia
3
Pic
Love Live Sunshine Mirai Ticket Sleeves H Mari
3
Pic
Vivid Strke Rinne Sleeves
3
Pic
Fate / kaleid liner Prisma Illya Drei Sleeves
3
Pic
Re:Zero TD Plus Sleeves
3
Pic
Kemono Friends Sleeves
3
Pic
Attack on Titan Chibi Battle Sleeves
3
Pic
Sword Art Online Ordinal Scale Sleeves
3
Pic
Shiyoko PR Set (1 ea. of 7 cards)
2
Pic
WS Gray Sleeves
3
Pic
WS Rubber Mat
8
Pic
WS Original Binder White
5
Pic
WS Short Storage Box 2017
2
Pic
Konosuba 2 Megumin Sleeves
3
Pic

Counterfeit, expired, and/or non-winning coupons will not be returned. HotC is not responsible for lost / stolen mail, covering both our Points exchange to and from Japan on your behalf and to and from you and us. Points items that are not claimed within two months of arrival are forfeit.





HeartOfTheCards.com © 2011-2018 Heart of the Cards. Intellectual Property Notice